Recipe of the Month
November 10, 2016
Starter – Fivemiletown Ballybrie, Sunblushed Tomato & Caramelised Onion Fritters, Cranberry Chutney & Hazelnut Dressing
4 portions
150g Ballybrie cut into rough Dice.
4 wedges Sun Blushed Tomatoes Finely Chopped
20g Caramelised Onions chopped
20g Fine Breadcrumbs
1 teasp Chopped Chives
Pinch Salt & Pepper
Pane Mix
Seasoned flour
Egg Wash (2 eggs & little milk whisked together)
Fine Bread Crumbs
Place the Ballybrie into a blender and blitz for 45 seconds to 1 minute until the cheese is in small pieces but not a paste.  Place the cheese in a bowl with all the other ingredients. Now form into 12 equal size small balls. Once you have all the balls formed place on a tray with greaseproof paper and put in the freezer to firm up.  Once firm, roll the balls in the seasoned flour, then the egg wash and finally the fine Breadcrumbs, shaking off excess ingredients at each stage. Repeat the process once more so the fritters have a good coating.
Hazelnut Dressing
30g Toasted Hazelnuts Roughly Chopped
50ml Olive Oil
1teasp Local Honey
1/2teasp Wholegrain Mustard
Squeeze of Lemon Juice
Pinch Salt & Pepper
Simply mix all the ingredients together and season to taste. Set aside
1 Jar of Cranberry Chutney
Mixed salad leaves to garnish
To assemble the dish spoon 3 small mounds of the chutney onto a plate and garnish the plate with some winter salad leaves. Fry your Fivemiletown fritters in hot oil 190oC for 30-40 seconds until golden brown, drain on kitchen paper and place on the plate just to the side of the chutney, last thing drizzle your hazelnut dressing over the fritters and serve immediately.
Canape – Fivemiletown Ballyblue Cheese Mousse on Oakwood Cheddar Shortbread with Sweet Quince & Port Glaze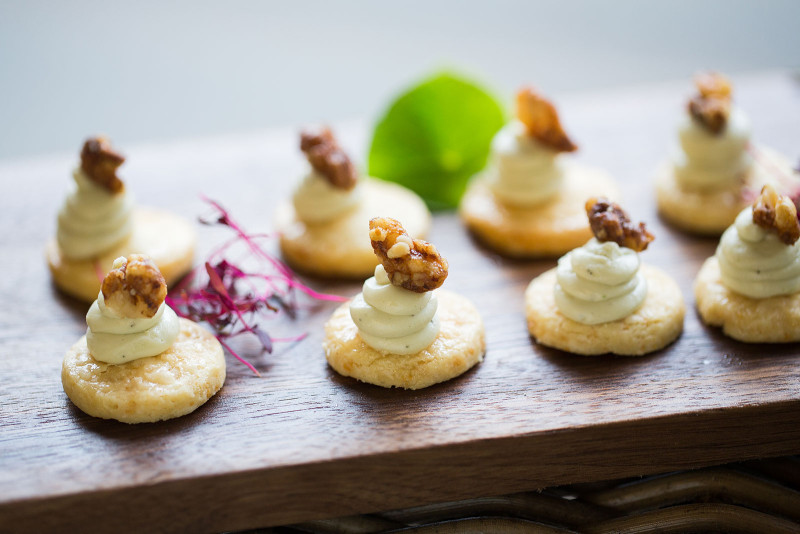 This simple vegetarian canape can be prepared in advance and will be extremely popular with everyone at your party. Really delicious
100g Ballyblue Cheese rind removed
35g Cream Cheese
Dice up the blue cheese into small cubes and place in a blender with the cream cheese, bitz both cheeses together until smooth. Once blended place the mixture into a small tub and refrigerate
Oakwood Cheddar Shortbread
100g Plain flour
50g Cornflour
100g Softened Butter
75g Finely grated Oakwood Cheddar
Grind of Black Pepper
1 Free Range Egg Yolk
Simply place both flours, pepper and butter into a bowl and rub the butter into the flour mix with the tips of your fingers. Once the mixture resembles a crumble mix add the egg yolk and cheddar. Mix with a wooden spoon to bring the mixture together. Turn the mixture out onto a floured board and knead for a couple of minutes until smooth. Cover the dough with cling film and refrigerate for at least an hour before rolling out.
Sweet Quince and Port Glaze
1 Dessert spoon of quince
3 Dessert Spoons of Port
Place the quince paste and port in a small saucepan and heat gently stirring all the time until the quince is completely dissolved and the mixture is a thick glaze; set to one side
Remove the shortbread from the fridge and roll out to the thickness of a £1 coin. Cut out small discs with a round cutter about 30mm in diameter. Bake on parchment paper at 170oC for 8-10 minutes until golden brown. Allow to cool before brushing with the warm glaze and finally pipe the cheese mixture on top. You can decorate the top with half a toasted walnut.
< Back to News